Practitioner Diploma In Hypnotherapy & Coaching

Course Overview
​
Train with us here at Newlands Personal Development, and get the very best practical, effective and fun training in Scotland. Avril Gill is a highly skilled and professional Trainer of Hypnotherapy, an expert in her field who has trained with some of the top Hypnotherapists in both the UK, Europe and America.

Our Diploma in Hypnotherapy blends all the best practices of Hypnotherapy, NLP, New Code NLP and the emerging field of Generative Trance & Generative Coaching; bringing you a truly unique approach to the field of hypnotherapy. It is an exciting time to be training with us at Newlands Personal Development as we continue to grow and expand our courses and our team of experts.

Whether you are learning Hypnotherapy or adding new techniques to your repertoire, or simply want to develop yourself, we will support you every step of the way making your journey enjoyable, rewarding and memorable.

The Diploma In Hypnotherapy is fully accredited by the British Institute of Hypnotherapy & NLP (BIH) & the American Board of Hypnotherapy (ABH)
Important Facts


This is a fully accredited professional Practitioner Diploma in Hypnotherapy, Coaching & NLP.

Our training centre is internationally recognised and you will receive training that is over and above the national requirements that we adhere to being members of the British Institute of NLP & Hypnotherapy, American Board of Hypnotherapy and the CNCH

We pride ourselves in always going above and beyond what is expected with all our training.

​All our training and learning materials reflect the UK Hypnotherapy National Occupational Standards and Core Curriculum


​Our course is structured to support the student every step of the way; with personal mentoring/supervision, coaching & support groups provided over and above the classroom-based learning.

​Course Details


​Duration: ​180 Hours (20-22 Days) Classroom Training over 10 - 11 months

Location: Edinburgh City Centre

Cost: £2499 includes all course material, certificates and BIH Student Membership

Qualification: Practitioner Diploma In Hypnotherapy & NLP

Professional Body: The British Institute Of Hypnotherapy & NLP (BIH) & The American Board of Hypnotherapy (ABH)

Training provided by; Newlands Personal Development

Additional NPD Certification: Diploma In Coaching & Practitioner Certificate in NLP


We are absolutely committed to bringing you the best training possible, and to ensure that we meet the highest professional standards in our industry. All our trainers have been trained by the best in their field and accredited professionally by The British Institute of Hypnotherapy, Complementary and Natural Health Care, American Board of Hypnotherapy and are active in these communities.
---
Who is this course for?

​
This course is suitable for a variety individuals, whether you are just starting out in your chosen career path, or whether you have a wealth of experience behind you and looking to embark on a new road or maybe just slow things down so that you can create a part-time career in readiness for retirement.

This course is suitable for everyone!



Counselors
Coaches
CBT Practitioners
Healthcare professionals
Massage therapists
Holistic therapists & practitioners
Mental Health Therapists
Retired
Teachers
HR Professionals

Anyone who wants to create change in their own lives and the lives of others.
Course Structure



Hypnotherapy is the most practical, results-oriented method of understanding and getting in control of your conscious and unconscious mind and enabling you to make a difference in your life and the life of others.

The course blends all the best practices of Hypnotherapy, NLP (Classic & New Code) and the emerging field of Generative Trance & Generative Coaching; therefore it is an exciting time to be training with us at Newlands Personal Development as we are the only course in the UK with this unique special blend!

The aim of this course is to provide students with a deep understanding of the knowledge and skills as well as the practical experience required to become a professional Hypnotherapist.

You will learn how to work with clients and develop a professional practice that will enable you to work with some of the key issues that Hypnotherapists specialise in today; such as weight loss, smoking cessation, stress, anxiety, phobia's & confidence.

The course is delivered over 12 Months, and we use a variety of learning methods, including case studies, practical demonstration's, specialist speakers and classroom studies as well as extensive reading material and an optional e-learning platform which can be used to support your studies.

Each part of the course is designed to give you the student a broad understanding of the key skills and a variety of techniques used in hypnotherapy today.
---
Course Outline and Overview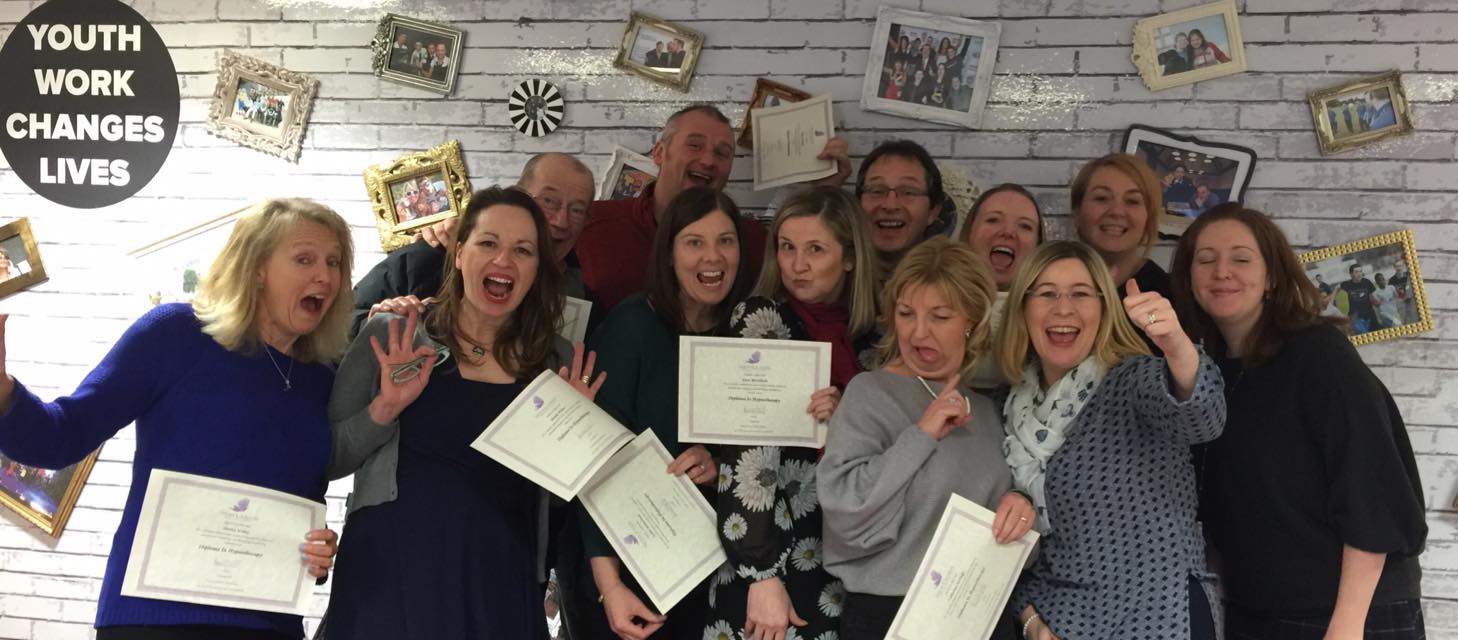 Course Modules Overview
History of Hypnosis and Hypnotherapy Approaches

​

Permissive
Authoritarian
Generative
Ericksonian Hypnotherapy
Stephen Gilligan & Generative Trance
Elman & Estabrooks Hypnosis Approaches
Guidelines & Codes of Conduct & Insurance

Hypnotic Language and Conversational Hypnotherapy

Conversational Hypnosis Principles & Learn how to create trance effortlessly
The Art & Science of conversational language for change, psychology of thoughts & beliefs
Belief change through conversation
Directional questioning
Time-release suggestions
Regression Language

Transformational Hypnotherapeutic Approaches

Approaches to coaching/structure
Transformation and change from the inside out
Managing personal resources
Psychology of Transference & Countertransference
Psychology of Projections & Types of projections
Contra-indications




Generative Trance Part one

Three generations of Trance Work: Putting it all into perspective; Authoritarian, Ericksonian, Generative
Trance and The Great Journey of Consciousness
Constructing Realities: Conscious Mind, Unconscious Mind & Creative Consciousness
Relationship between realities: Creative Flow Vs Neuromuscular lock
---
​

Generative Trance Part two

Opening the Gates to the many faces of trance
Not all trances are created Equal
Trance is psycho-biologically necessary
The context of trance: Hypnosis and beyond

​​

Applications in Hypnotherapy Part one

The practicalities of change and how to apply different techniques across the spectrum of areas of change and personal development

Anxiety/Self Esteem
Confidence
Insomnia
Sports Performance
Smoking
Relationships
Weight loss
Phobias

​​

Personal Breakthrough Session

How to deliver a personal breakthrough session
Working with the neurological levels of change
Experience giving and receiving your own breakthrough session

​

Conversational Hypnotherapy Using Clean Language Format

Reframing for change
Metaphors of life,
Using the right questions & clean language for change work
Using clean language to create metaphors for change
Sleight of mouth conversational techniques to bring about change
---
Applications in Hypnotherapy part two

Working with challenges
The client transaction
What not to do when...
​Language, your energy, your stuff
Business Performance
Staying out of your story​
Personal Change
Past life Regression
Pain Control

​

​

Marketing & Setting up A Hypnotherapy Practice

Getting started
Client registration, security & confidentiality
Premises
Marketing
Website & Social Media Platforms
Identify your niche and client attraction

​​

Assessment Day

Live client day
Observations & Examination
---
COURSE ASSESSMENT/EXAM
On completion of the course, there will be a practical assessment and a series of case studies to be completed in your own time.

​There will also be a short exam, and along with client observations on the last weekend of training. Clients are invited in from Avril's private practice as volunteers for you to experience working with real clients, with real life issues. Feedback, guidance and support are provided on the day to ensure you feel both competent and confident to complete the last part of your training with us.

Individual support and advice are available throughout your training. As well as this supervision continued support is given to those who complete the training and set up a Hypnotherapy Practice in the UK.


QUALIFICATIONS

​The course is accredited by the British Institute of Hypnotherapy (BIH) and The American Board of Hypnotherapy making it an internationally recognised qualification.

Upon successful completion of the course you, you will be entitled t use the letters BIH Dip Hyp and ABH Dip Hyp after your name.



---
ENTRY REQUIREMENTS
AGE


​You must be over 18 to attend this course; there is no upper age limit, in fact, this is the perfect course for anyone looking to develop a new career as they approach retirement!

EXPERIENCE


No previous experience in hypnotherapy or any similar background is required.

The essential ingredient is that you must have a genuine desire to help people, a good understanding of both written and spoken English.

You may be required to be asked to apply for a DBS/CRB check if you intend to work with children or vulnerable adults.

GENERAL HEALTH


You must be physically healthy and fit to attend all the training weekends.

If you have experienced or currently experience any psychological, psychiatric, medical, or physical or neurological disorder, including:

Psychosis
Depression
Bi-polar
Epilepsy
Using medication which may impair your memory or concentration
Severe visual/auditory impairment

Fitted with a pacemaker

Please contact us to discuss further before booking a place on the course.
Course Dates
NEXT INTAKE JANUARY 2018

STARTS 27TH JANUARY
​LIMITED PLACES AVAILABLE

Location: Edinburgh City Centre, Scotland, UK

Venue: The Basement (NPD"s private training centre) Haymarket

Duration: January 2018 - November 2018

Weekend Dates:

Jan - 27 & 28
Feb - 24 & 25
Mar - 24 & 25
Apr - 28 & 29
May- 26 & 27
Jun - 23 & 24
Jul - 21 & 22
Aug - 25 & 26
Sep - 29 & 30
Oct - 27 & 28
Nov - 24 & 25
​

Times: The training weekend runs from 9.30am - 5.30pm both Sat & Sun

Pop the dates in your diary/calendar now so as to avoid double booking, it's important you do not miss any of the weekends.

JANUARY 2019

REGISTRATION FOR 2019 OPEN

Location: Edinburgh City Centre, Scotland, UK

Venue: The Basement (NPD"s private training centre) Haymarket

Duration: January 2019 - November 2019

Weekend Dates:

Jan - 26 & 27
Feb - 23 & 24
Mar - 30 & 31
Apr - 27 & 28
May- 25 & 26
Jun - 29 & 30
Jul - 27 & 28
Aug - 24 & 25
Sep - 28 & 29
Oct - 26 & 27
Nov - 23 & 24


​
Times: The training weekend runs from 9.30am - 5.30pm both Sat & Sun

Pop the dates in your diary/calendar now so as to avoid double booking, it's important you do not miss any of the weekends.
---
Course Fees
The total cost of the course is just £2,499 (all training materials & exams included*)
The fee covers:

​

Twenty-two days tuition
Ongoing support & mentoring in between live training weekends
Post course email/telephone support
All training materials
BIH Membership
Exams
All Certificates
Comprehensive Course Text Book
Audio recordings/videos of training weekends and session demonstrated on the course
---
Payment
Full payment at time of booking via Secure Paypal payment

Or direct Bank Transfer can be arranged

​

The initial course fees and deposits are non-refundable, and if you decided to cease your studies at any stage of the course before completion, the full course fee (if outstanding) would reman due.​(Consideration would be given in exceptional circumstances)

---
Extra Costs?
We have strived to keep any additional costs to a minimum.
All mandatory training material is included in the cost of the course; you should have no need to buy anything extra, this includes a comprehensive course textbook
Insurance will be required, which usually costs around £35, we will provide information on the first weekend of training and who we recommend you use for best value and comprehensive cover.
Catch-up Sessions: If you miss a day you will be required to have a one-to-one catch up session to cover the material missed. This is at an additional cost of £95 per day missed.
​There are no other mandatory costs associated with your training.

---
Payment Plans
We have offered payment plans for the last few years, and these have been very popular with students
​so you may wish to take advantage of our monthly payment plan.
Payment Plan Structure:

Deposit: £200 at time of booking
10 Monthly instalments of £229.00
1st instalment starts before weekend one
The Final instalment is paid before weekend ten.
All payments are non-refundable.

If you pay by monthly instalment, you must pay using bank transfer, if that is not possible a small service charge will be added for payments using PayPal or credit cards.
---
What do our students say about training with us at Newlands Personal Development
---
FEQUENTLY ASKED QUESTIONS
What onging support is available?

​​Over and above the weekend training there are mentoring and support groups available to join all FREE for existing students. The mentoring group is run by former students which mean you get lots of support, help and guidance from people who have been through the course in previous years.

Help is available via coaching groups both on and offline for support and guidance, and we have a fantastic community of individuals who are always available with advice.

Master classes are available to help you deepen your knowledge and expertise in particular area's; we recommend that you only consider these once you have finished your full training.

After you have completed your training, it's very likely that you will want to hang around with us for a while until you find your feet. Many of our previous students now come back and help by assisting on training courses, and you will be welcome to do this too.

As you can see the support continues long after you have left the training room!
---
Do I need insurance to join the BIH?

You will be required to obtain insurance, it won't be needed immediately, but you will need to ensure you have insurance before charging clients for your services. We will advise you on how to go about this and make recommendations on who to choose for your provider.
---
What is the cost of the full BIH Membership?

The cost of membership for the BIH is free for students, so there are no upfront costs for your membership. You will, however, be required to upgrade your membership at the end of your training and this will cost £75 for a newly qualified Hypnotherapist.
---
What happens if I fail the final exam?

In our opinion, there is no such thing as failure, only feedback that gives you the opportunity to make adjustments and modify what you do to get the results you want. Which means that we will help you to be successful every step of the way. We will provide you with ongoing feedback and guidance to ensure your path to success.

We want to see you succeed and will do what we can to support you all the way.

Only in extreme circumstances would we suggest that someone is unable to carry on with any additional work or training that is required to achieve the qualification.

---
Is this a recognised and legitimate qualification?

YES, it absolutely is!

Once you are qualified, you will be able to get the professional membership to some bodies, including the British Institute of Hypnotherapy, The American Board of Hypnotherapy and the Complementary and Natural Health Care Council. Upon which you will be on their databases as a registered and qualified hypnotherapist.


---
I have found a cheaper and shorter course online and elsewhere?
​
There are lots and lots of hypnotherapy courses available both off and online. However, not all are accredited, and many do not offer you the opportunity to practice and develop the skills required to "do" the work of a hypnotherapist. Hypnotherapy is not a skill you can learn from a book, online or from reading scripts and neither is it advisable to attempt to learn all these skills on a crash course that guarantees you will be an overnight success.

If cost and time is an issue for you, then be sure that when you are choosing another provider that you speak to them in person and check out their professional credentials, and if possible speak to other people who have trained with that provider. Otherwise, you might just be throwing your time and money at a course that doesn't give you what you need to get your career in Hypnotherapy off the ground.



Do you offer discounts?
A discount of 20% off the cost of the course is available to the following individuals/groups:
Students
Over 60's
NHS Staff
People working in the Charity Sector & Children's 1st Employee's
If you fall into any of these categories, please get in touch to discuss.
Got a question I haven't covered?